As a leader in soldering technology, Indium Corporation offers a number of solder pastes for assembly with many different alloy choices and flux technologies to solve many of your process challenges such as miniaturized components, fine-pitch, voiding, printing and reflow performance.
Have a question? Get in touch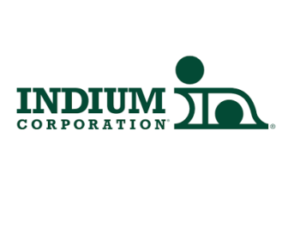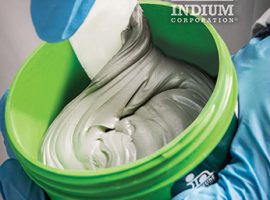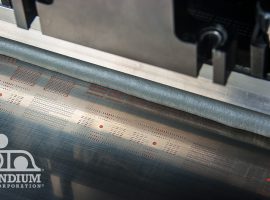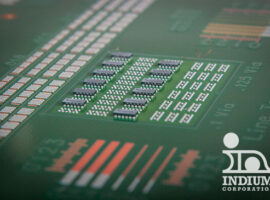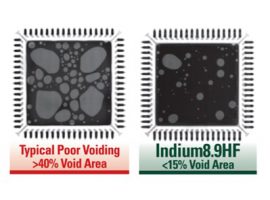 Indium Corporation produces a wide range of solder paste products to fit every need and challenge in the PCB Assembly and semiconductor manufacturing industry. Solder paste can be manufactured in hundreds of alloys and with powder size ranging from Type 3 to Type 8. Solder pastes are available for a wide variety of process deposition techniques, including printing, dipping, dispensing, jetting, and pin transfer assembly. Whether you are dealing with warpage induced defects, voiding, insufficient solder paste volume, or electrical or mechanical reliability issues, Indium Corporation's solder pastes – coupled with world-renowned technical support – allow for the lowest total cost of ownership and fewer end-of-line defects.
Lead Free Solder Pastes
Indium offers a large range of lead-free solder pastes with a variety of SAC alloys. From the industry standard SAC305 to lower silver contents SAC such as SAC0307, SAC105, SACm (doped), as well as new alloys such as Indalloy®292 engineered to provide advanced reliability for high-performance applications.
| | | | | | | |
| --- | --- | --- | --- | --- | --- | --- |
| | | | | | Best all-around halogen-free solder paste. | |
| | | | | | Hi-Reliability thermal cycling at -40/150°C , high shear strength, enhanced SIR | |
| | | | | | High reliability low temperature peak reflow < 210°C | |
| | | | | | Optimized for long-term jetting and microdispense applications | |
| | | | | | | |
Lead Containing Solder Pastes
| | | | | | | |
| --- | --- | --- | --- | --- | --- | --- |
| | | | | | Industry leading SnPb solder paste. Optimized for ICT. | |
| | | | | | Industry leading SnPb solder paste. Optimized printing performance. | |
| | | | | | Low voiding water soluble solder paste | |
| | | | | | Exceptional stencil life and tack strength. Consistent ultra-fine pitch print definition | |
| | | | | | Hi performance and ideal for mixed alloy SnPb and Pb-free processes | |
| | | | | | Designed for Indium based alloys. Reduced leaching/scavenging on gold or silver. | |